TeloPro® soft-gel capsule
Beginning in December 2016, we arranged our first NINE-MONTH trial of the TeloPro® soft-gel capsule. Every participant took a comprehensive physical examination and telomere length test before and after taking the capsule (all samples were blindly processed to prevent the results from being affected by personal information).
Through clinical research comparison, we reached the following conclusion after participants taking TeloPro® for 9 months.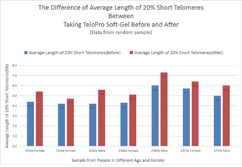 20% Short Telomeres
84.44% testers
The average growth 0.73 Kb
Growth rate 15.61%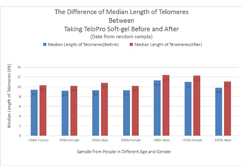 Median Length of Telomeres
93.33% testers
The average growth 0.86 Kb
Growth rate 8.95%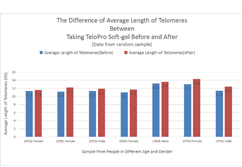 Average Length of Telomeres
95.56% testers
The average growth 0.63Kb
Growth rate 4.51%
Biological Age
91.11% testers
an average decrease of 4.34 years in biological age
Statistics of self-assessment results
31.11% Sleeping satisfaction has significantly improved. 13.33% Skin has become exquisite, rosy and elastic. 33.33% The immunity has been enhanced and the risk of cold has been avoided.
The hair has become smooth and glossy. Allergy symptoms have disappeared. Frequent micturition symptom has alleviated. Blood fat has markedly reduced.